Have you been searching endlessly for a modern software that delivers an unforgettable customer experience? You've finally met your match! Why Cention? Question no more. We built a platform that gives your business everything it needs to communicate with your customers.
Cention is changing the way your business interact. Whether customers are reaching out from calls, email, SMS, chat, social media, or webforms – you now have a single solution on your fingertips to help your agents work more efficiently and smarter to deliver the best customer experience.
It is truly omnichannel, cloud-based and guarantees no downtime, ever! That's why.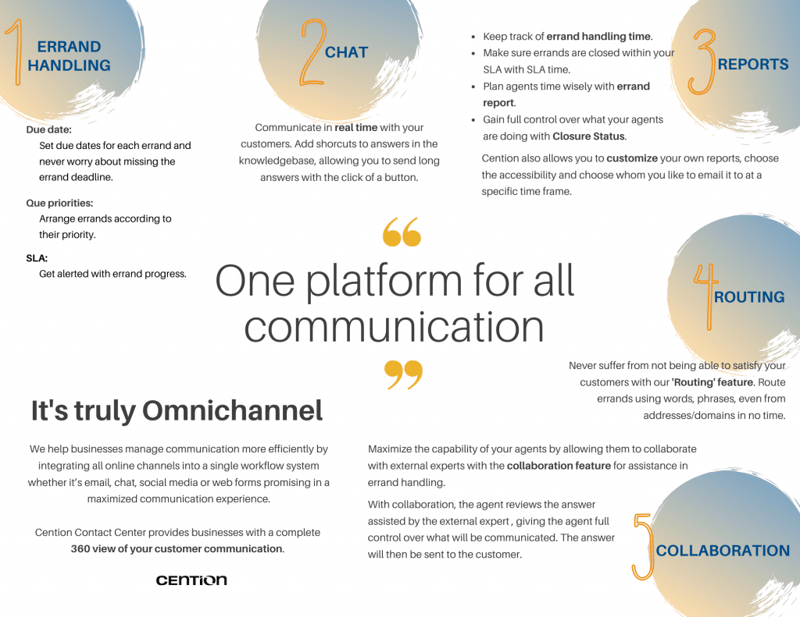 Cention is truly Omnichannel
Multichannel is not omnichannel. Many companies offer multichannel solutions. Sure, they can handle voice, email or even chat too. Some can even manage social media interactions. But are they able to make all of these channels available for their customers on a single platform? That's largely impossible. Unless the platform was built from scratch to be THE omnichannel solution like Cention. Customers are able to have personable interactions with an agent without ever transferring or disconnecting. Ultimately, without interacting with more than one agent in more than one interaction.
Cloud-based solution
Imagine being able to constantly be there for your customers. Our software is specifically created in the cloud precisely to leverage that cloud to its full potential. Cloud-based platforms are able to consistently deliver businesses maximum flexibility, scalability, uptime and cost-effectiveness like never before. For users, cloud-based solutions require minimum effort to connect with your customers. Get access anywhere, anytime! Great customer experience means maximized business return.
Never suffer downtime with Cention, ever.
Contact centers is a critical industry to be in and that means every downtime is lost in revenue and that's a no no for any business! Many contact center software providers claim to offer almost or absolute 100% uptime. With Cention, 100% SLA guarantees zero downtime of the entire platform. It will never go down, ever.